Different circumstances call for towing of a boat in the water. A boat may develop a mechanical problem such as motor failure or run out of fuel deep in the sea. To tow a boat in the water, you have to arrange with a friend who has a motorboat to help you out. If not done carefully, boats may land in trouble during towing.
Methods of towing a boat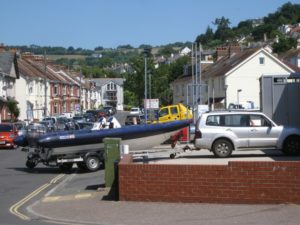 There are two main recommended methods for towing a boat in the water. The first method is referred to as stern tow. It involves setting up a line from the front of the boat to be towed to the back of the towing boat. The second method is side by side or alongside tow. It involves tying the two boat side by side and towing in that position.
Stern tow
Stern tow is appropriate if the way to tow is long and with less crowd. It is relatively easy to set up with minimal tendencies to veer off. The stern of the towing boat is connected to the bow of the towed boat. Once connected, slowly dump the line in the water. Longer lines are better at absorbing shock and thus recommended. Too long lines, however, reduce the levels of control. Start the tow slowly and accelerate gently. One danger with stern towing is getting the lines caught up in the motor. As a result, have one person in the towing boat if possible, to watch the line.
Alongside tow
If the space to get around is little, this is the safest method to tow a boat in the water. For example, in case you need to suddenly turn or slow down, it gives better control to do so. The two boats are tied side by side. One line connects the sterns and another the bows. The third line connects the middle front of the towing boat to the cleat of the towed boat. The two boats should be the same length or as closely matched as possible.
Safety precautions for boat towing

Irrespective of the method, ensure you have appropriate tow lines. The best lines will be double braided lines that are strong without any damages. Before towing, everyone must have a safety jacket with knives in the boats to cut loose the lines if necessary. Before starting the tow, decide in advance what is going to be done and who is going to do it to eliminate uncertainties.
Observe the ocean conditions and determine if they are suitable for towing. If difficulty conditions such as strong winds happen, don't tow. If the towing is happening deep into the sea, establish communication lines such as radio or cell phone signals before towing. Also, check that the motorboat has enough fuel to take it to the shore. If planning to use the stern tow method, get a drogue to stabilize the boat to be towed.
Check out our article on heavy items that are towed around the world.